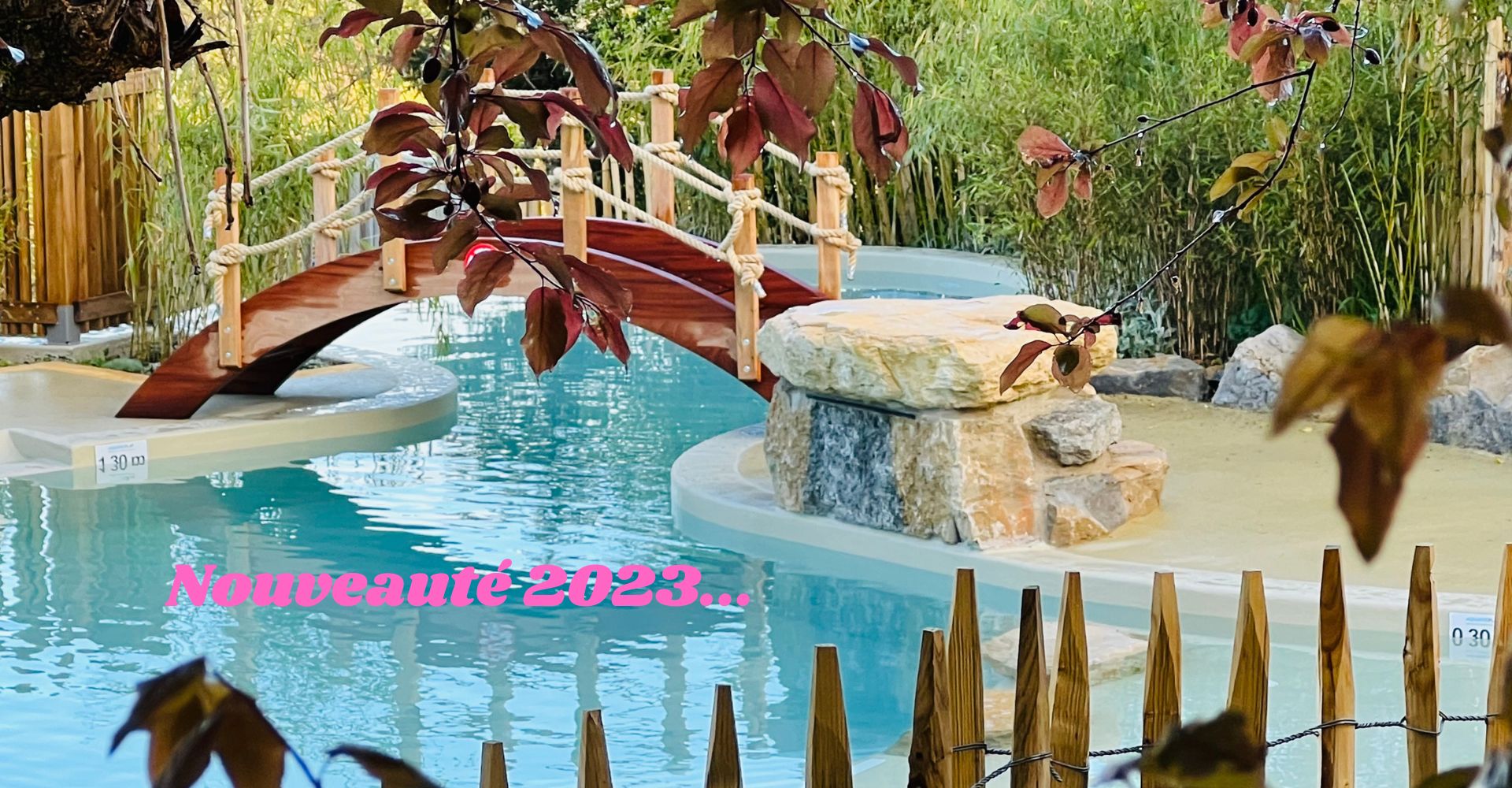 Our heated pool in the Dordogne
New layout for the 2023 season !
(Follow the progress of the work on our social networks)
Enjoy the heated swimming pool of our campsite in Dordogne with a clear view on the valley, the deckchairs are at your disposal for a little nap in the sun at the edge of the water. It is open in fine weather from June to the end of September from 10:00 am to 8:00 pm.
Between 2 outings in the heart of the Périgord Noir, or to enjoy the end of your day, go to the pool. Young and old alike, you will be delighted to splash around in our pool heated to 26°C in order to fully enjoy your vacation.
Pleasure and relaxation at the same time in our heated pool!
We wanted to offer you a moment of relaxation in a landscaped setting with a magnificent view of one of the valleys of our beautiful village of Rouffignac. All around the pool you will find a sunbathing and relaxation area decorated with greenery and a floral universe. Stretch out on the deckchairs and enjoy the Perigordian sun!
The youngest will discover the joys of swimming thanks to our two immersed beaches, the older ones will be able to refresh themselves and have fun thanks to the 1m30 depth of the pool.
For those who are looking for more relaxation, a superb overflow spa area with a view of the valley, whirlpool bath and massage jet will surely satisfy you.
A more ecological pool in our campsite in Dordogne.
In terms of ecology, we wanted to use a maximum of natural stones and rocks from our local quarries as well as a strong vegetation of the space.
The pool is heated by a heat pump powered by a photovoltaic panel installation. An eco-responsible and energy-saving equipment for an optimized operation and a reduced consumption of energy, water and maintenance products contributes to obtain an optimal water quality.
A water gutter will also allow animals such as frogs, newts and others to get out of the pool easily and not drown in it.
The heated swimming pool at our campsite in the Dordogne is an ideal place to cool off when the temperatures are high.